The flower world has always been chosen to make many tattoos. This is because of the ease with which it can be adapted to many designs to change meaning or reduce the aggressiveness of others. Similarly, several women use floral motifs to add a touch of femininity to the composition. For example, if you choose a skull, adding flowers will give you a more personal connotation.
The orchids, the flowers we analyze in this article have many different meanings, but there is a special element that needs to be improved. Changing the color also changes the message you want to convey. First, we will talk about the general meaning of this plant and then give a more concrete explanation of each selected tonality.
In general, orchids have always symbolized seduction, sensuality and beauty; They also stand for fertility. However, this should not surprise us, because many flowers are associated with fertility, as the simple fact of flowering is a metaphor for the birth of a human being.
Instead, we now analyze how the meaning of the plant changes depending on the chosen color.
When the orchid is white, it represents the purity and the ideal of love. It also expresses innocence and can sometimes be compared to the childhood and the beautiful memories of that time.
The yellow orchid gives love an erotic value. Many superstitious people will not choose this color easily (in the theater world, yellow is associated with misfortune); Since this color is not very common in nature, we give the composition a touch of originality.
The pink orchid has the same characteristics as the yellow one and differs only in eroticism. She goes even further and refers to the most extreme sensuality. This may not be known to many, so always inquire before deciding on it tattoo,
The red orchid has to do with the intense desire for love. As can be seen, the values ​​assigned to them have more or less the same origin regardless of the color.
As we said earlier, using a color other than white will certainly result in a more original result. However, we must take into account that we can create something confusing if the design is not perfectly implemented. Otherwise, there is a risk that we exchange it for another flower. When we see it tattooed in white, it is more difficult to confuse, as it is the most common color in nature.
In this gallery we see drawings of flowers in color or in black and white ink. These designs are chosen by many girls.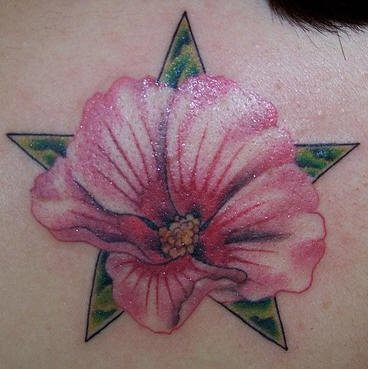 Pink orchid design on a star with green tips.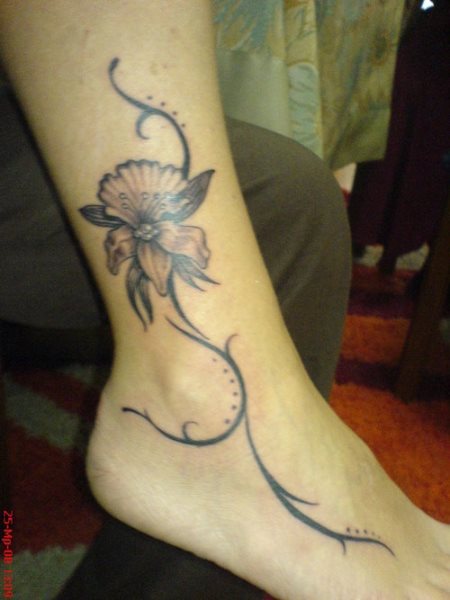 Beautiful open floral design with elongated shapes that cover the instep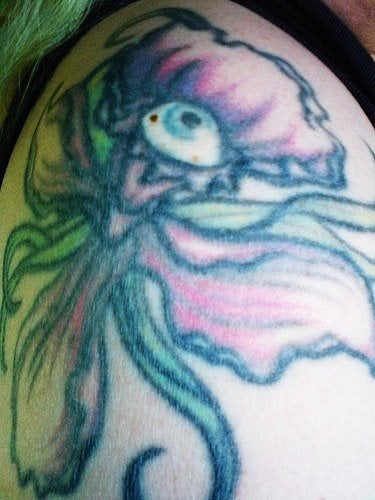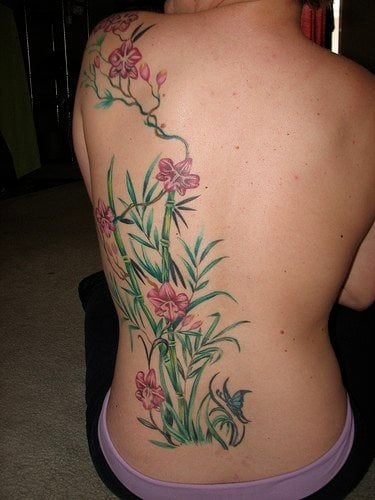 Fantastic tattoo of flowers and colorful leaves reaching from the bottom to the shoulder of this girl.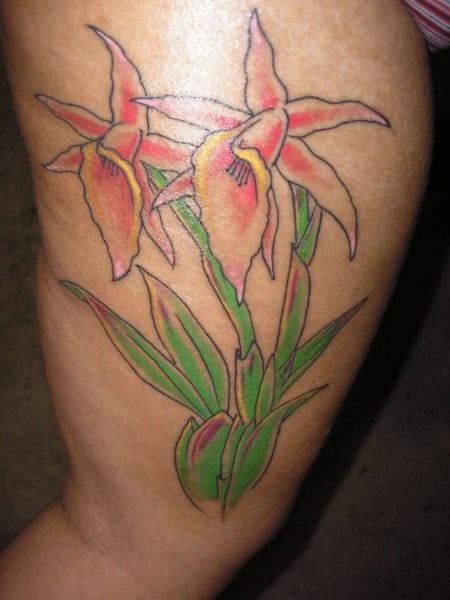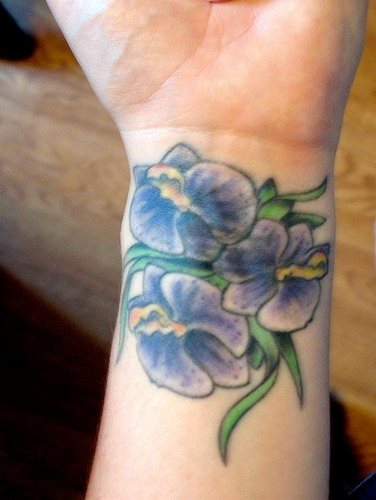 Flowers of rare forms in purple and green.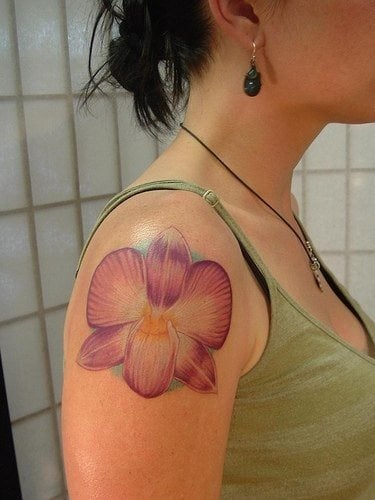 Big purple orchid on the shoulder of this girl.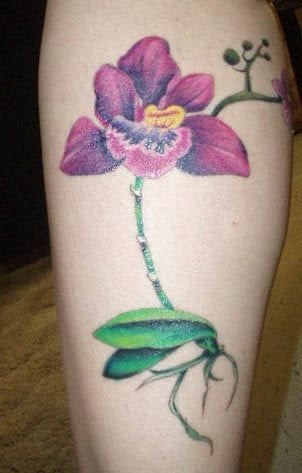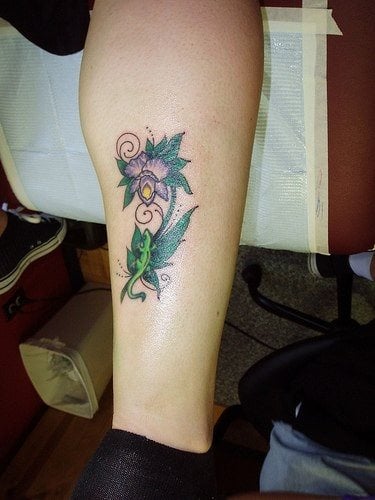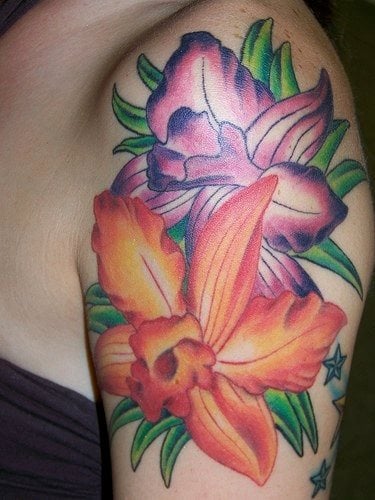 Design of beautiful flowers in orange and purple, surrounded by stars and leaves.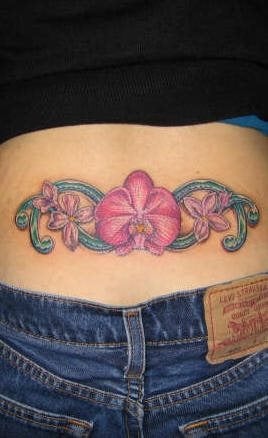 Pink flower drawn in the middle of the lower part of the back of this girl. It is accompanied by other flowers and other tribal style motifs.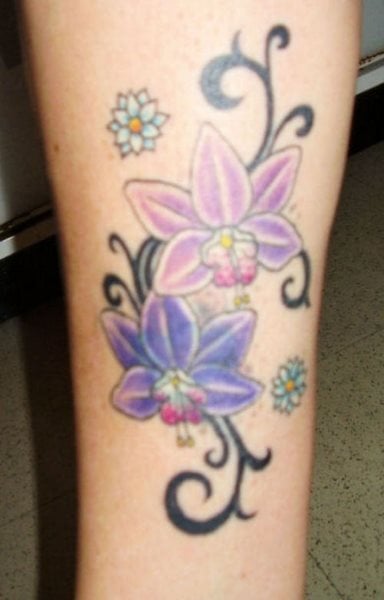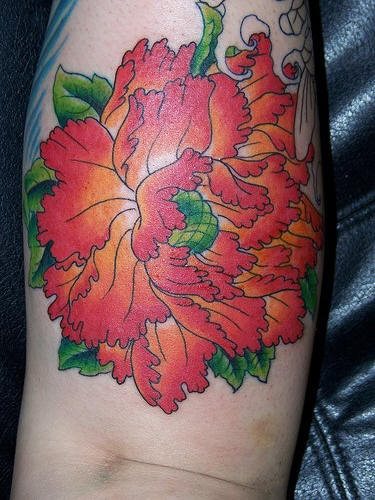 Strange floral design in the form of rounded lines and bright colors.
Crown with pearls, surrounded by rosy flowers and accompanied by other symbolic drawings: lock, keys, two inscriptions with dates, stars, initials, etc.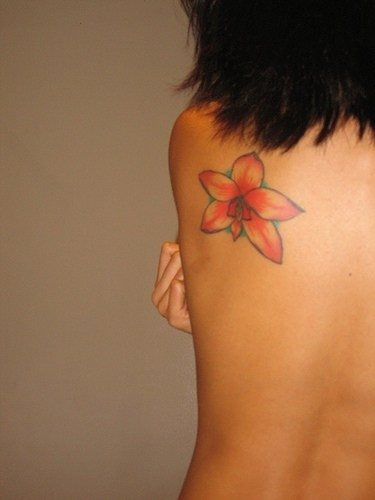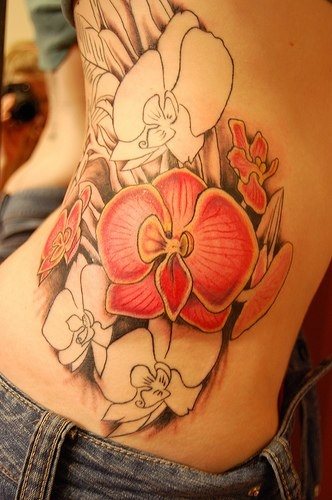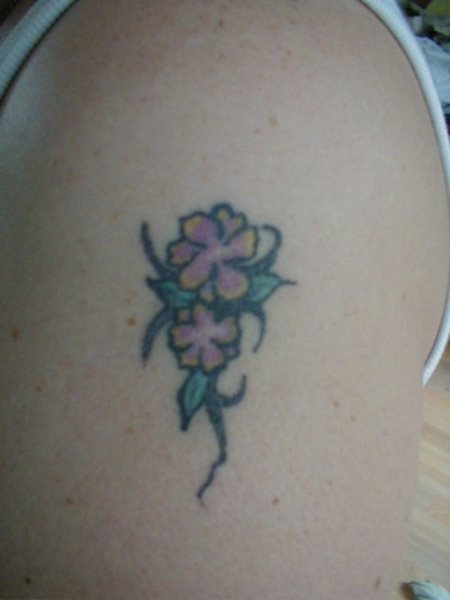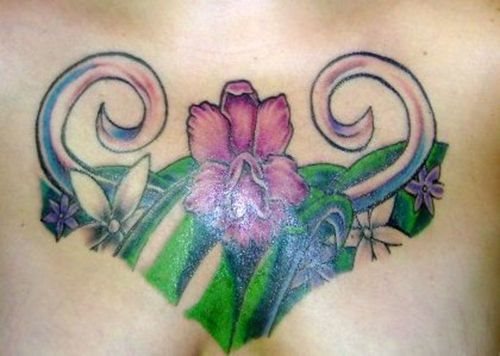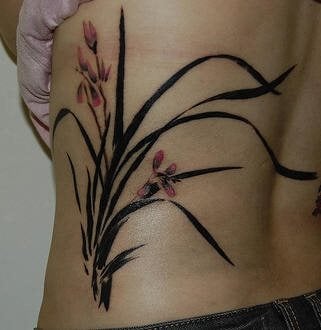 Black-tipped leaves ending with small Rosi flowers. This design covers the back of this girl.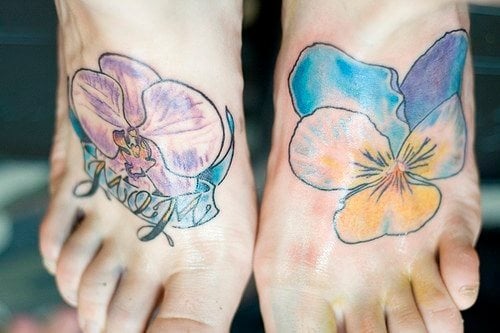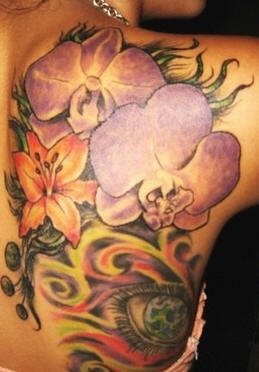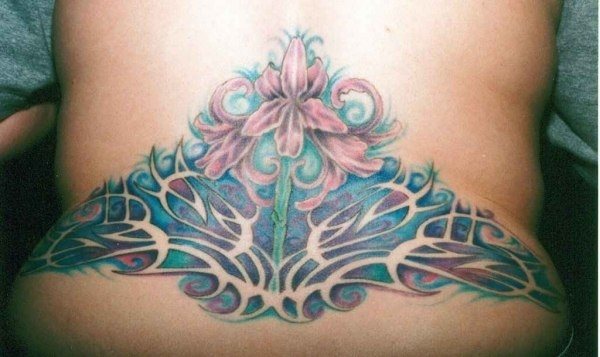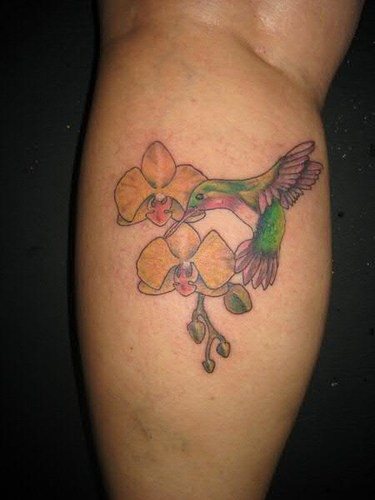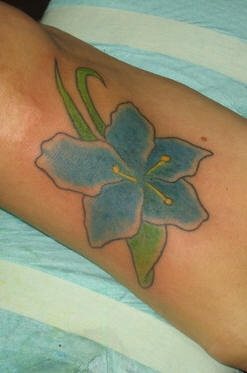 Flowers with simple shapes in blue tones.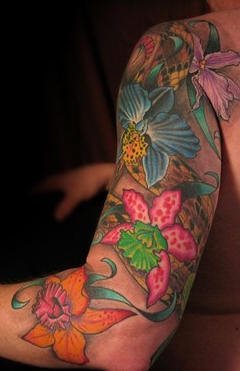 In this photo we see the bright colors of the flowers that cover almost the entire arm of this girl.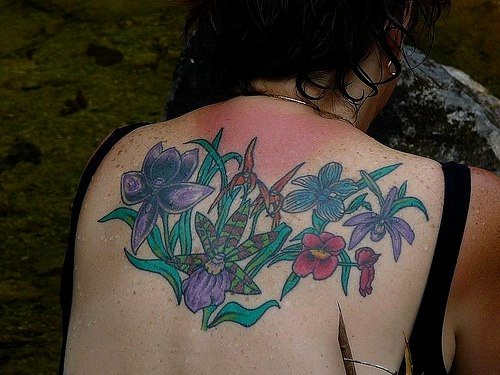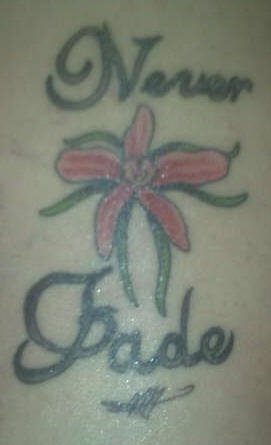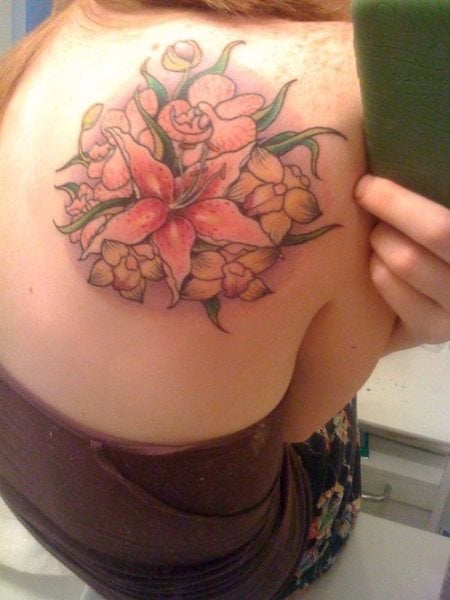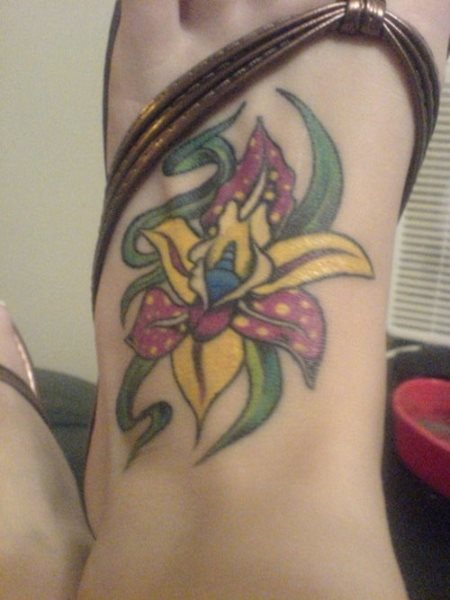 Strange flower in the Rist of this girl.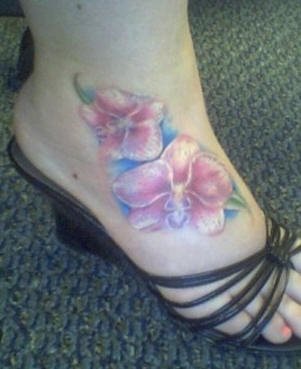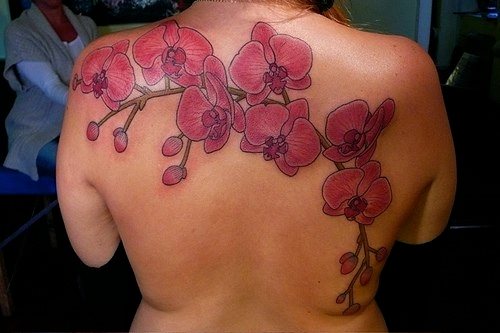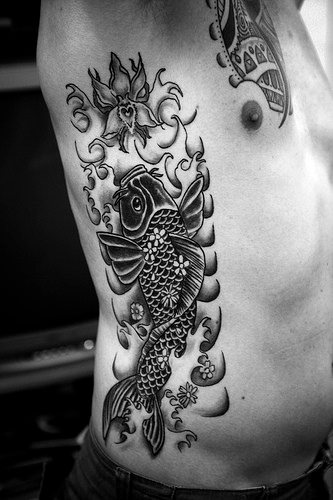 Koi fish design surrounded by flowers and shapes. It is expressive and lively.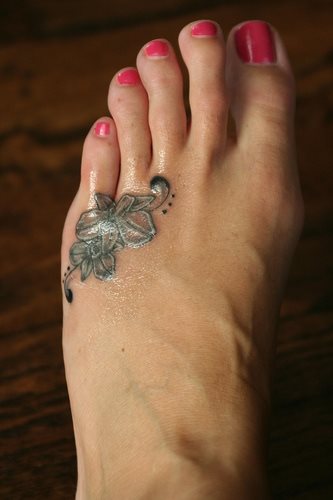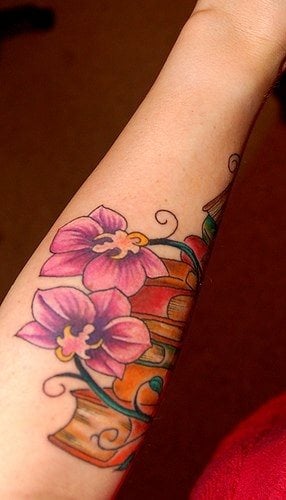 Please follow and like us: